Home Inspections
Home Inspections provide a concise report on the condition of the home with respect to structural soundness, systems operations, and safety. During the process of purchasing homes in the past, we felt that we received far less than a professional experience and the report we received did not provide any further insight into the transaction.  It occurred to us that with our experience, we could prevent that from happening to other home buyers.  At A.D.P. Inspections, Inc. of Frederick, MD, we offer a FREE Limited Warranty and Homeowners Handbook with every Home Inspection and include digital pictures with each report. We service all areas of Maryland including Frederick and Montgomery County.  We also service Washington DC, northern Virginia and West Virginia. Click on the Links below to learn more about  the Free Limited Warranty!
Options for Buyer & Sellers
Warranty Details for Realtors
Warranty Program Information for Realtors
Maryland Home Inspectors must be licensed through the Maryland Department of Labor & Licensing and are also required to complete continuing education classes annually. Is your Home Inspector licensed and up to date on their continuing education requirement?
Verify them through this link: License Verification
A.D.P. Inspections, Inc. License Verification
We are also licensed in Virginia and West Virginia serving the counties bordering Maryland, and the DC community as well
What is done during a Home Inspection?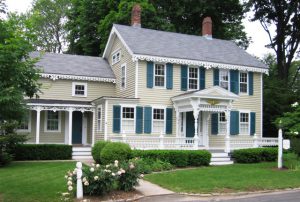 An average inspection can take 3 to 5 hours depending on the size of the home. Our service is not a simple walk through review, but an thorough Accurate, Dependable, Professional inspection. The inspector will examine the exterior and interior of the home, structural and mechanical components, and provide a complete report including pictures, that can be provided in hard copy, electronically or both.
Please complete the Request Inspection page if you are interested in scheduling an inspection or Contact Us with any questions.
Why do I need a Home Inspection as a Buyer?
A home is arguably one of the largest single purchases in your lifetime, and an investment in your future.  Home inspections provide you with knowledge on the condition of the home and its systems. Whether you live in Montgomery County, Frederick or any area in Maryland, a home inspection is an educated investment.
When should Home Inspections be performed?
PRE-SETTLEMENT:  The traditional approach to inspections for Buyers
PRE CLOSE-IN OF WALLS and/or PRE-SETTLEMENT NEW CONSTRUCTION: Just because a home is new doesn't mean the absence of problems, and inspection by a third party Home Inspector with will provide that extra peace of mind for Buyers
PRE-LISTING: Know what issues may arise from a pre-settlement inspections, and provide your potential buyers up front peace of mind.  A great add on incentive for Sellers
WARRANTY EXPIRATION: If you have been in your home for almost a year, chances are your traditional Home Warranty is expiring soon.  Get a Home Inspection before that expiration date to ensure that you can make an informed decision to extend your coverage.
PROPERTY MANAGERS: This inspection will provide valuable information on the condition of the structural and mechanical systems before and/or after tenant occupancy of your property.  Upon completion of the inspections, you can ensure that any items of concern are addressed, and your property is ready for occupancy.